Without Remorse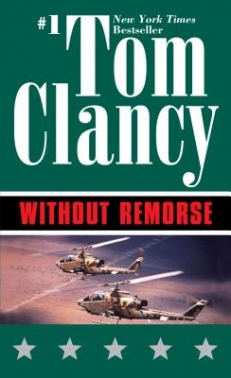 Published by Berkley
Two missions, two wars, one man -- and time running out.
Over the course of seven novels, Tom Clancy's "genius for big, compelling plots" and his "natural narrative gift" (The New York Times Magazine) have mesmerized tens of millions of readers and established him as one of the preeminent storytellers of our time. Without Remorse, however, goes beyond anything he has ever done.
Its hero is John Kelly, a man well familiar to Clancy's readers by his code name, Mr. Clark. In The Sum of All Fears, he hunted down nuclear terrorists. In Clear and Present Danger, he led aerial raids against drug lords. In The Cardinal of the Kremlin, he spirited away a KGB chief's family by submarine. But nothing will ever be as deadly -- or as personal -- as the danger he must face in Without Remorse.
John Kelly, former Navy SEAL and Vietnam veteran, is still getting over the accidental death of his wife six months before, when he befriends a young woman with a decidedly checkered past. When that past reaches out for her in a particularly horrifying fashion, he vows revenge and, assembling all of his old skills, sets out to track down the men responsible, before it can happen again.
At the same time, the Pentagon is readying an operation to rescue a key group of prisoners in a North Vietnamese prisoner-of-war camp. One man, they find, knows the terrain around the camp better than anyone else they have: a certain former Navy SEAL named John Kelly.
Kelly has his own mission. The Pentagon wants him for theirs. Attempting to juggle the two, Kelly (now code-named Mr. Clark) finds himself confronted by a vast array of enemies, both at home and abroad -- men so skillful that the slightest misstep means death. And the fate of dozens of people, including Kelly himself, rests on his making sure that misstep never happens.
Men aren't born dangerous. They grow dangerous. And the most dangerous of all, Kelly learns, are the ones you least expect. . .
As Clancy takes us through the twists and turns of Without Remorse, he blends the exceptional realism and authenticity that are his hallmarks with intricate plotting, knife-edge suspense and a remarkable cast of characters. This is Clancy at his best -- and there is none better.
Mass Market Paperback | 768 pages | 9780425143322 | August 11, 1993