Characters in Tom Clancy Novels
Jack Ryan
Jack Ryan's success is solidly based on the foundation of his middle-class upbringing and inquisitive mind. After graduating from Boston College on a Naval ROTC scholarship, he was commissioned as a Second Lieutenant in the United State Marine Corps. His military career ended when a helicopter crash left him seriously injured.
During his recovery he met his future wife Cathy, made millions in the stock market, and took a job teaching history at the US Naval Academy. On a trip to London, he thwarted an attempt on the life of the Prince of Wales. This led to a career with the CIA--first as an analyst, then a reluctant field agent, and ultimately, as the Deputy Director of the CIA.
His next post was as National Security Advisor. His actions during the brief secret military confrontation with Japan led to his appointment as Vice President of the United States. One tragic moment thrust him into the Presidency, from which he is now retired. But is his country done with him?
John Clark
The man known as John Clark was born John Terrence Kelly. As a Navy SEAL in Vietnam he was awarded the Navy Cross (later upgraded to a Medal of Honor by President Jack Ryan).
His life took a tragic turn with the death of his wife in a car accident. His subsequent relationship with a young runaway named Pam led to her death and resulted in his war on the drug dealers of Baltimore. A detective, one Emmet Ryan, who didn't care for a vigilante drug war on his beat was closing in on Kelly. With the help of the CIA, the former SEAL faked his death and started a new life as John Clark.
Since then, Clark has worked for the CIA as one of its most effective field operatives. He crossed paths with Jack Ryan for the first time in Colombia on the same mission where he met his future long time partner Ding Chavez. Most recently, he and Ding have headed the anti-terrorist force Rainbow Six in England.
He is married to Sandy and his daughter Patsy is married to Ding.
Ding Chavez
A native of Los Angeles, Ding joined the CIA straight from the United States Army. He has worked primarily with John Clark since then. Their missions have taken them from the jungles of Colombia to Iran and, in their most recent actions, to the United Kingdom where Ding acted as the executive officer of Rainbow Six.
He is married to John Clark's daughter Patty and they have a son named John Conor Chavez.
Jack Ryan, Jr.
Jack Ryan, Jr. is the son of President Jack Ryan and Dr. Cathy Ryan. All his life Jack, Jr. has faced a daunting challenge: how to make his own place in a world so thoroughly dominated by his famous father?
Jack, Jr. may have grown up in the White House, but it's always been his desire to put his talents to work for his country without using his father's influence. This aspiration led him to the Campus, the top secret intelligence group that operates without the political constraints that bind official government agencies.
Like his father, Jack, Jr. turns out to be a top notch analyst, able to see patterns and clues that elude others. He has also found himself in the field doing the necessary work that keeps America safe.
The search for the Emir is the greatest challenge ever for the Campus and for Jack, Jr. It may also turn out to be their most dangerous test.
Characters in Tom Clancy Full Force and Effect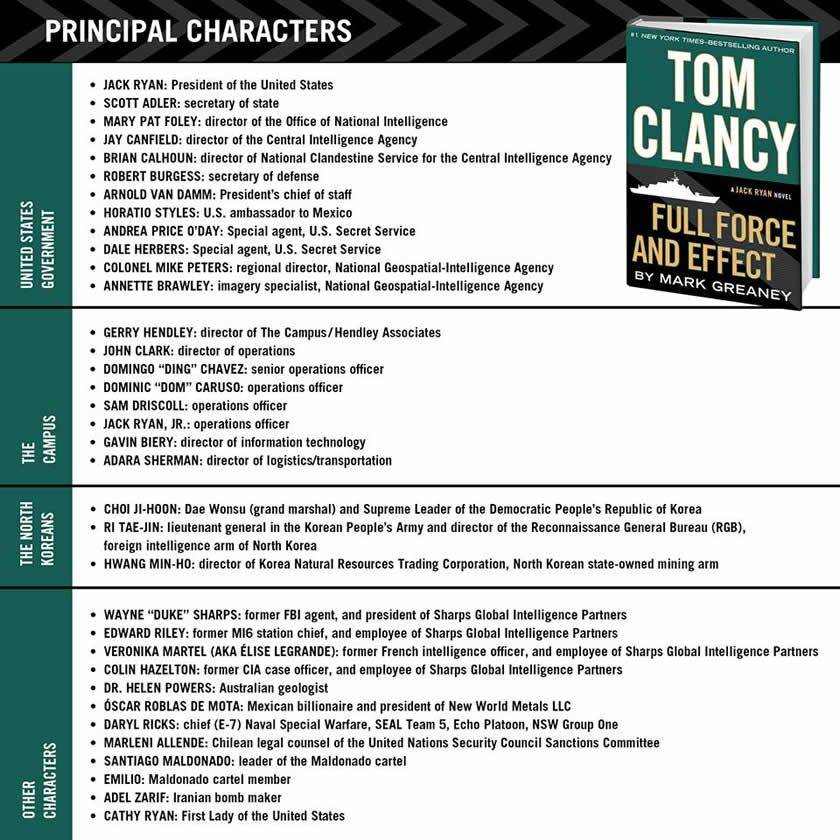 Characters in Command Authority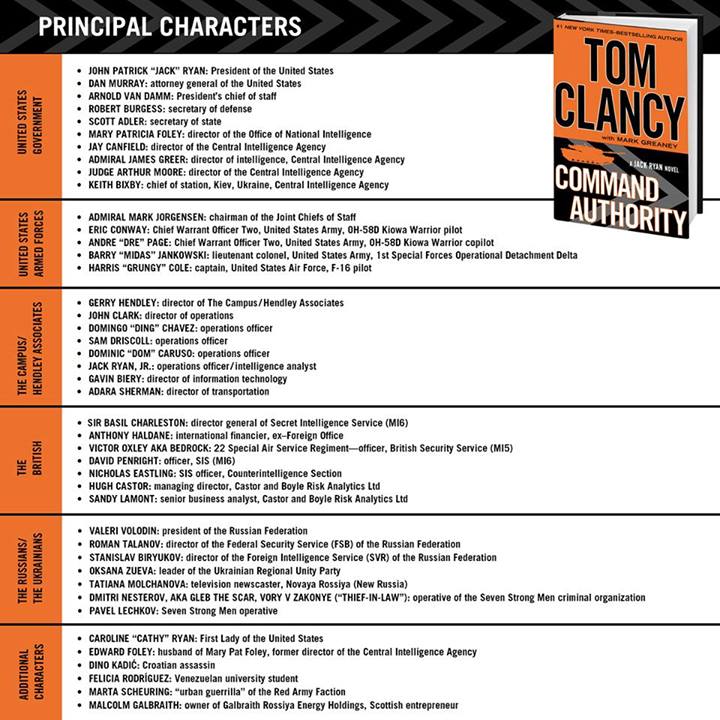 Characters in Tom Clancy Support and Defend