Tom Clancy Point of Contact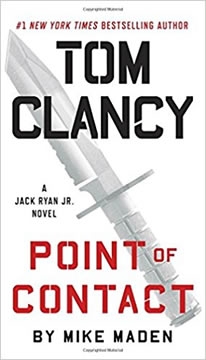 A Jack Ryan Jr. Novel
By Mike Maden
Published by Putnam



In the latest electrifying adventure in Tom Clancy's #1 New York Times bestselling series, Jack Ryan, Jr., learns that sometimes the deadliest secret may be standing right next to you.
Former U.S. Senator Weston Rhodes is a defense contractor with an urgent problem. His company needs someone to look over the books of Dalfan Technologies, a Singapore company—quickly. He turns to his old friend Gerry Hendley for help. Hendley Associates is one of the best financial analysis firms in the country and the cover for The Campus, a top-secret American intelligence agency. Rhodes asks for two specific analysts, Jack Ryan Jr., and Paul Brown, a mild-mannered forensic accountant.
Both Ryan and Brown initially resist, for different reasons. On the long flight over, Ryan worries he's being sidelined from the next Campus operation in America's war on terror. Brown—who was never very good with people—only worries about the numbers, and finding a good cup of tea.
Brown has no idea Jack works for The Campus but the awkward accountant is hiding secrets of his own. Rhodes has tasked him with uploading a cyberwarfare program into the highly secure Dalfan Technologies mainframe on behalf of the CIA.
On the verge of mission success, Brown discovers a game within the game, and the people who now want to kill him are as deadly as the cyclone bearing down on the island nation. Together Ryan and Brown race to escape both the murderous storm and a team of trained assassins in order to prevent a global catastrophe, even at the cost of their own lives.
Paperback | 496 pages | 9780735215887 | June 13, 2017