Red Storm Rising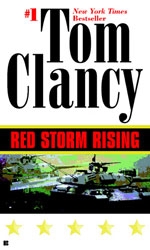 By Tom Clancy
Published by Berkley



Tom Clancy's first novel was the phenomenal The Hunt for Red October, a story about the chase for a defecting Soviet submarine that topped the bestseller lists for seven months; that had the intelligence experts of several nations reading it for its astonishing authenticity; that gained raves from critics, admirals and even the President himself.
"If Red October is only Clancy's first," wrote Jack Higgins, "then the rest of us better look out, because God alone knows what the second and third are going to be like."
Red Storm Rising is Clancy's second novel, and it is in every way bigger, more daring, even more thrillingly dramatic.
Once again, the players are the U.S. and the U.S.S.R. -- but this time the stakes are much higher. When Moslem fundamentalists blow up a key Soviet oil complex, making an already critical oil shortage calamitous, the Soviets decide they have no choice. To survive, they must seize the oil in the Persian Gulf; to seize the oil, they must find a way to keep NATO from retaliating.
And they find it: Red Storm, an audacious, four-month master plan of elaborate diplomatic trickery and crash military buildup designed to keep the West off-balance -- and ready it for the knockout blow. As the weeks tick by, and we watch the brilliant Soviet strategy unfolding, the rumors flying, the West scrambling to keep up, Clancy turns up the tension, notch by notch, until it seems it can go no higher -- and then the novel explodes with the full fury of the Soviet armed forces as they sweep into Europe and the North Atlantic, and the West finds itself in an all-out shooting war, and maybe more -- the climactic battle for control of the globe.
In one of the most remarkable depictions of modern warfare ever written, Clancy weaves men, planes, ships, missiles and submarines; scenes of large-scale battle and individual acts of heroism; moments of tragedy, joy and unimaginable endurance into an intricate pattern that dances and whirls before our eyes. Filled with a memorable cast of Russians and Americans alike, and the extraordinary authentic detail for which Tom Clancy has been acclaimed, it is both a triumph of the storyteller s art -- and frighteningly real.
Mass Market Paperback | 736 pages | 9780425101070 | August 7, 1986