Clear and Present Danger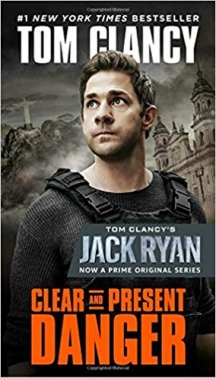 By Tom Clancy
Published by Berkley



Don't Miss the Original Series Tom Clancy's Jack Ryan Starring John Krasinski!

In this #1 New York Times bestselling thriller from Tom Clancy, Jack Ryan gets caught in a war between the United States and a Colombian drug cartel and uncovers a shocking conspiracy.

When Colombian drug lords assassinate both the U.S. ambassador and the visiting head of the FBI, their actions trigger a covert response from the American government--a response that goes horribly wrong...

As the newly named Deputy Director of Intelligence for the CIA, Jack Ryan should be privy to operations like the one in Colombia, but he's been left completely in the dark. With the help of field officer John Clark, Ryan intends to find out what's really going on. But while they expect danger from without, the greatest threat of all may come from within.
But they have pushed too far. Someone steps quietly over the line they have drawn, deploying covert-action teams in Colombia. At home, too, men armed with the most sophisticated tools their country can devise begin to take the fight to the enemy. But does anyone know who the real enemy is, and how much action is too much? Who is doing what? Which line has been crossed? Ryan and his "dark side," a shadowy field officer known only as Mr. Clark, must find out. They expect danger from without -- but the danger from within may be the greatest of all.
As Clancy takes us through the twists and turns of Clear and Present Danger, he blends the exceptional realism and authenticity that are his hallmarks with intricate plotting, knife-edge suspense, and a remarkable cast of characters. This is Clancy at his very best -- and that is "the best there is."
Mass Market Paperback | 704 pages | 9780440001065 | August 17, 1989